Chinese Regime Hoards Global Inventory of Medical Supplies, Leading to Growing Shortage Outside China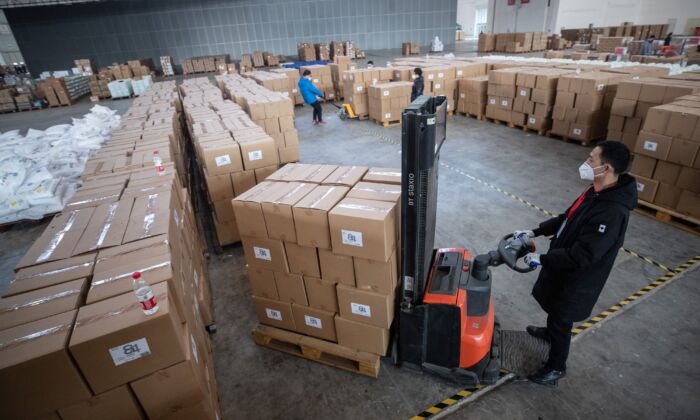 Staff members and volunteers are transferring medical supplies at a warehouse of an exhibition centre in Wuhan, China on Feb. 4, 2020. (STR/AFP via Getty Images)
EpochTimes
As the pandemic has spread throughout the world, hospitals have become overwhelmed by CCP virus patients.
N-95
masks
, medical protective suits, goggles, surgical gloves, disinfectant, extracorporeal membrane oxygenation (ECMO) machines, and
medical ventilators
have become critical supplies to treat patients or protect medical workers from being exposed to the virus.
As many countries deal with escalating outbreaks, evidence has emerged that Chinese authorities have bought up billions of masks, as well as hundreds of tons of other critical medical supplies globally. Meanwhile, China, itself a major manufacturer of such medical supplies, has stopped exporting since January—just as the outbreak in China became severe.
Chinese firms and overseas Chinese organizations are the main means to realize Beijing's global sourcing, buying up stock from the United States, Europe, Australia, and other countries.
In some instances, Chinese companies negotiated with major international manufacturers and asked them to sell or donate their stocks to China.
Having sold their inventories to China and unable to purchase new products from China, countries around the world are now
running low on medical supplies
.
Government Actions
Beijing authorities mobilized the Chinese diaspora to help buy up goods. "Keep on buying while sending back to China [medical supplies], and try your best to buy as much as possible," read one article
posted
on the official website of the Chinese Communist Party (CCP)'s
United Front Work Department
, an agency dedicated to spreading the regime's agenda inside and outside China. In the West, United Front organizations are usually Chinese
student unions
at colleges and universities, Chinese
chambers
of commerce, and Chinese
associations
.
The United Front encouraged all overseas Chinese to follow in the association's footsteps to buy up all available medical materials and send them back to China.
The article explained that overseas Chinese in the United States, Canada, UK, Argentina, Australia, United Arab Emirates, and Seychelles have already bought up goods in the tons.
Some overseas Chinese organizations in those countries buy from local manufacturers and major wholesalers directly, such as DuPont. Others buy from whatever retailers they can find, according to the article.
The groups then hired Chinese and international shipping companies to transport the goods, such as FedEx and SF Express. The United Front also encouraged Chinese nationals to purchase goods and transport them in their personal luggage when they travel back to China.
China's Foreign Affairs Ministry also directly instructed nationals to buy up medical supplies.
The Chinese consulate general in Los Angeles
issued
a notice encouraging donations on its official website on Jan. 26, listing supplies that were urgently needed in China, including: medical protective masks—even specifying the manufacturing serial number; protective suits; goggles, quick-drying hand sanitizers; Oseltamivir, an antiviral medication typically used to treat the common flu and other types of medicine; touch-free infrared thermometers, and more.
On Feb. 27, the consulate general
updated
its request, saying that Chinese communities in the Los Angeles area had donated more than 60 tons of medical supplies since the epidemic ignited in China.
Chinese embassies and consulates in other countries made similar announcements.
China's embassy in Japan, for example,
announced
on its website on Feb. 4: "At present, China urgently needs medical protective suits…medical masks (N95 and better), goggles, and other protective materials." It asked Chinese nationals to purchase these goods and donate them to China.
China's embassy in the UK
announced
that "on Jan. 31, the embassy received nearly 500,000 British pounds worth of donations."
Global Sourcing
Since January, Chinese state-run enterprises, companies with government entities as majority shareholders, and private firms began sourcing medical supplies to ship into China.
"Between Jan. 24 to Feb. 29, China's customs authorities inspected 2.46 billion shipping containers of supplies for epidemic prevention, valued at 8.21 billion yuan ($1.158 billion)," China's General Administration of Customs
announced
on March 7. "[Among them,] there are 2.02 billion facial masks and 25.38 million protective suits."
State-run Beijing News
reported
on Feb. 10 that roughly 50 percent of the world's supply of masks is manufactured in China. In 2019, China produced more than 5 billion masks, 54 percent of which were medical-grade masks.
If more than 2 billions medical masks were shipped to China during the first two months of the year, that means China imported about half of the world's annual production of medical masks.
Many state-run businesses are directly involved in this effort.
According to a Feb. 4 report by state-run media
People's Daily
, those included China National Pharmaceutical Group (Sinopharm), China Railway Construction Corporation (CRCC), China Energy Engineering Corporation (Energy China), and China Resources, a conglomerate with businesses in mainland China and Hong Kong.
"Sinopharm sourced from Europe, the Americas, and Asia. By Jan. 31, it ordered 2.78 million packages of medical supplies, which include 2.38 million masks, 166,000 protective suits, 15,200 goggles, and 190,000 pairs of protective gloves," the report said. Furthermore, Sinopharm was preparing to buy up more.
Greenland Group, a Chinese real estate developer with the Shanghai government as a majority shareholder, also joined in.
"By now, Greenland has bought 3 million protective masks, 700,000 medical protective suits, 500,000 pairs of medical gloves from overseas, and shipped them back to China," Chinese state-run media Xinhua
reported
on Jan. 31. Greenland had bought medical supplies from North America, Europe, Middle East, Asian countries, and
Australia
—where public outcry over the bulk-buying led the government to ban exports of medical supplies.
Country Garden is a private real estate company headquartered in the city of Foshan, in China's southern Guangdong province. It has businesses all over the world.
On Feb. 24, state-run China News Service
reported
that employees from Country Garden sourced medical supplies from Australia's Sydney, Melbourne, Brisbane, Perth, and Adelaide, and New Zealand's Auckland.
In three days, Country Garden's Australian arm, called Risland, purchased goods and organized them to be transported on a cargo plane flying to China directly.
On Feb. 8, state-run newspaper Foshan Daily
reported
that Country Garden also purchased from Germany, Indonesia, Thailand, and other countries.
At the State Council's—China's cabinet—press
conference
on Feb. 3, the deputy minister of transportation and deputy minister of commerce both said that China's e-commerce businesses, such as JD.com, Wumart, and SF Express, have sourced and donated masks, protective suits, goggles, and supplies via their "global supply chains."
Some international manufacturers who have business in China also joined this initiative.
Medtronic is a medical device company headquartered in Minneapolis, Minnesota. It has manufacturing facilities in Shanghai, Beijing, Changzhou, and Chengdu.
In a Chinese-language statement, Medtronic
said
on its website that the company donated its manufactured ventilators, blood oxygen saturation meters, and ECMO equipment to Wuhan. It also bought protective materials from other countries and donated them to different Chinese cities. FedEx
confirmed
in a Chinese statement posted on its website that those machines and materials were shipped by them from the global market.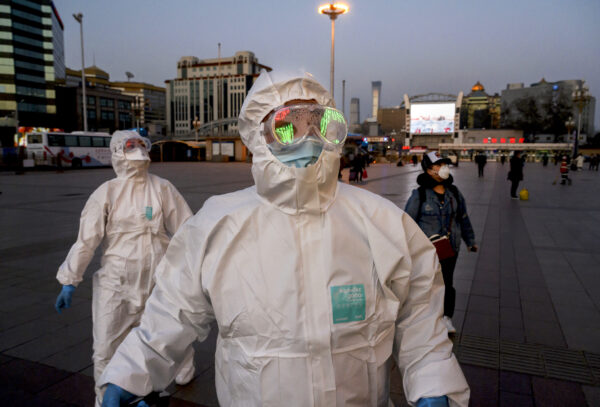 Cut Off Exports
On March 9, during a daily press conference of China's foreign affairs ministry, a reporter
asked
whether it's true that the Chinese regime has banned all exports of medical masks and raw materials for making medical masks.
Geng Shuang, the ministry's spokesman, answered: "China still needs a large amount of masks, and the supply cannot meet the demand. At the current phase, other countries will face difficulties when they try to purchase masks from China."
Geng denied the government was forcing businesses to stop exporting medical supplies.
Read the rest
here