Warren Backs Ocasio-Cortez's Plan for Economic Inequality and Climate Change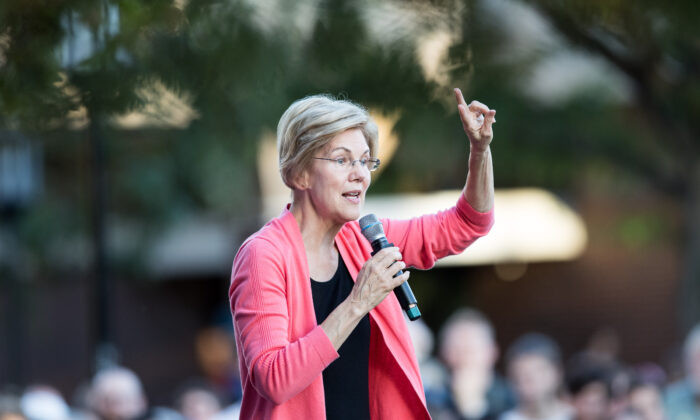 Democratic presidential candidate Sen. Elizabeth Warren (D-Mass.) speaks during a Town Hall at Keene State College in Keene, New Hampshire on Sept. 25, 2019. (Scott Eisen/Getty Images)
EpochTimes
Democratic presidential contender Elizabeth Warren threw her weight behind a plan proposed by Rep. Alexandria Ocasio-Cortez that includes taxpayer-funded welfare benefits for illegal aliens and increased government intervention in the economy, including nationwide rent control.
Ocasio-Cortez, a Democrat who represents New York, is an outspoken member of America's largest Marxist group, the Democratic Socialists of America. She is one of four members of a congressional grouping known as "The Squad,"
that advocates radical left-wing policies
and is fiercely critical of President Donald Trump.
The other Squad members, all Democrats, are Reps. Ilhan Omar of Minnesota, Rashida Tlaib of Michigan, and Ayanna Pressley of Massachusetts. Although Rep. Nancy Pelosi, a California Democrat, is Speaker of the House of Representatives, many commentators say that Ocasio-Cortez, who is popular on social media, is so influential that she sets policy for House Democrats.
The new plan, "
A Just Society
," comes after Ocasio-Cortez's Green New Deal, an environmental policy that critics say would cost more than $90 trillion to implement and have little discernible impact on the environment. Major Democrats in the presidential race back the Green New Deal, including Warren, Independent Sen. Sanders of Vermont, former Vice President Joe Biden, and South Bend, Indiana mayor Pete Buttigieg.
A Just Society "aims to combat the greatest threats to our country, our democracy, and our planet: economic inequality and climate change," according to Ocasio-Cortez's congressional website.
The plan will put America "on a path towards shared prosperity for all," the site states, by providing "a living wage, safe working conditions, and healthcare," while acknowledging "the value of immigrants to our communities." It also "guarantees safe, comfortable, and affordable housing."
Warren, the senior senator from Massachusetts, became the first of the large field contending for the Democrats' presidential nod to
express support
for the plan.
"It's going to take big, structural change to tackle poverty and inequality in the U.S., and @AOC's 'A Just Society' is just the type of bold, comprehensive thinking we'll need to get it done[,]" she said in a Sept. 29 tweet.
Politico blared
in a headline in May that Ocasio-Cortez's was "One of the most important endorsements in America right now[.]" The headline was quoting political operative Rebecca Katz, who advised left-wing actress Cynthia Nixon's campaign for governor of New York. "AOC has captured the imagination of so many young people, so many women and so many nonpoliticos who really see her as a ray of light," Katz said.
A Just Society is broken down into six policy packages labeled as the "Recognizing Poverty Act," "Place to Prosper Act," "Embrace Act," "Mercy in Re-entry Act," "Uplift Workers Act," and "Guarantees the Economic, Social and Cultural Rights for All."
The plan calls for imposing rent control throughout the nation and giving tenants the right to apply to federal courts for relief if landlords violate the law. It also would make illegal aliens eligible for federal benefits and provides that "an individual may not be denied any Federal public benefit solely on the basis that the individual was convicted of a criminal offense (whether under Federal, State, tribal, or foreign law)."
The plan would require that employers be scored for "worker-friendliness" before being giving a federal contract. This score would consider "factors such as paid-family leave, scheduling predictability, a $15 minimum wage or otherwise prevailing wage, and union membership to ensure that all federal agencies prioritize contractors that are 'worker-friendly' when deciding what entities deserve public funds."
The plan would also empower the
United Nations
and weaken U.S. control over its own internal affairs by instructing "the executive branch to re-initiate ratification processes for the International Covenant on Economic, Social and Cultural Rights," a document that "states that all persons have the right to work, fair and just conditions of work, social security, an adequate standard of living, including adequate food, clothing, housing, and healthcare."
The Epoch Times requested comments from both the Warren and Ocasio-Cortez campaigns. As of press time, neither campaign had replied.