2014 PHOTO Shows Joe Biden Golfing With Son Hunter And Ukraine Gas Company Execs In The Hamptons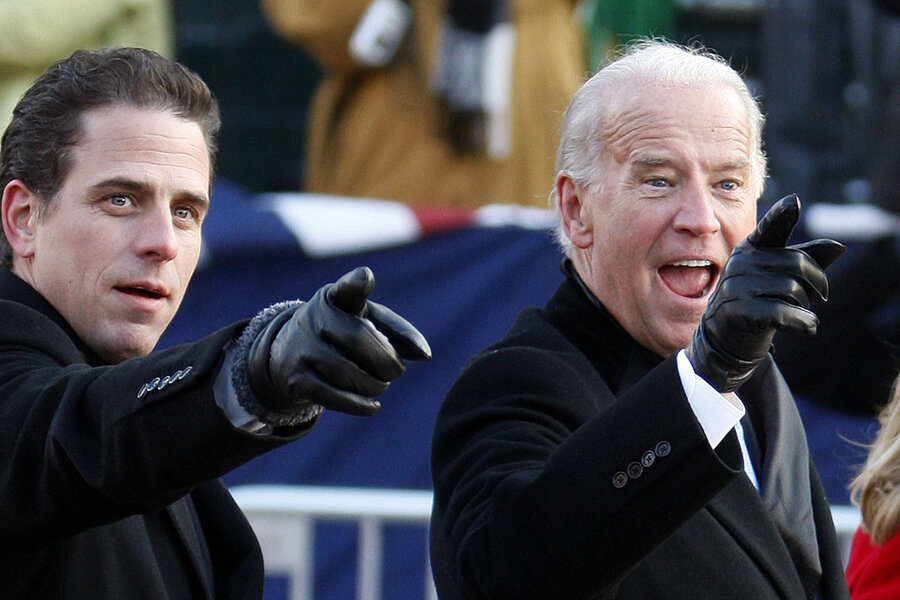 image: Christian Science Monitor
100%FedUp
Last week, Joe Biden's campaign wrote to executives at ABC, CBS, NBC, CNN, and Fox News to "demand" that Rudy Giuliani not be invited on the air to discuss Ukraine and President Trump because of what they called his misleading comments about the Biden family.
Trump lawyer and former New York City Mayor Rudy Giuliani posted a copy of the letter on Twitter.
A lot has happened since the Democrat allies in the media received the Biden campaign's threatening letter. A number of new developments have surfaced about former Vice President Joe Biden and the business dealings with his son Hunter Biden in Ukraine with Bursima Holdings, not the least of which is a 2014 photo proving that Joe Biden lied about not having any discussions about his son's business dealings in Ukraine.
Fox News
reports – Earlier this month, Trump suggested that despite his claims, Joe Biden seemingly discussed Ukraine matters with his son. The White House has sought to point to possible corruption by the Bidens, amid the House Democrats' formal impeachment inquiry against the president.
A 2014 photo obtained by Fox News' "Tucker Carlson Tonight" shows former Vice President Joe Biden and his son Hunter golfing in the Hamptons with Devon Archer, who served on the board of the Ukrainian natural gas company Burisma Holdings with Hunter.
Earlier this month, Joe Biden told Fox News in Iowa that he never discussed his son's foreign business dealings with him.
"I have never spoken to my son about his overseas business dealings," Biden said, pointing the finger at President Trump. "I know Trump deserves to be investigated. He is violating every basic norm of a president. You should be asking him why is he on the phone with a foreign leader, trying to intimidate a foreign leader. You should be looking at Trump."
In an exclusive interview with Tucker Carlson last night, conservative author Peter Schweitzer revealed that Joe Biden is lying about not having any business dealings with then-Vice President Joe Biden. Schweitzer reminds everyone that Hunter Biden told the New Yorker that he did talk to his father about the Burisma Holdings deal. He also pointed out that Biden's Chinese business partners admitted that they met with Hunter Biden and his father, Vice President Joe Biden in Beijing while the vice president was there on "official business."
Biden also lied about his trip to Ukraine where he threatened the Ukrainian government to fire the prosecutor who was investigating his son's company.
From
The Federalist
-Hunter Biden joined the board of Ukrainian national gas company Burisma in 2014 while his father was managing the United States' Ukraine policy and despite zero personal experience in the field. At the time Hunter Biden joined its board, Burisma was embroiled in allegations of corruption, allegations serious enough that Ukraine's prosecutor general launched an investigation into the company.
Joe Biden was so proud of his role in the prosecutor's removal from investigating the company paying his son $50,000 per month merely to serve on its board that he actually bragged about it in a 2018 speech at an event for the publication Foreign Affairs. In this speech, Biden boasts his threat to withhold $1 billion in U.S. loans from Ukraine if they did not agree to fire the prosecutor who happened to be investigating the company giving his son a cushy sinecure.
"I went over I guess the 12th, 13th time to Kiev, and I was supposed to announce that there was another billion-dollar loan guarantee. And I had gotten a commitment from Poroshenko that they would take action against the prosecutor and they didn't," is how Biden told the story.
But wait a minute…did Joe Biden actually go to Kiev to get Shokin fired in March 2016?
According to White House records, on March 20, 2016, President Obama became the first U.S. President to visit Communist Cuba in nearly 90 years. White House records also show that on March 30, 2106, Vice President Biden was nowhere near Ukraine.
Republican Senator Mike Lee's communications director, Conn Carroll, shared an interesting screenshot from Biden's March 31, 2016 schedule, that shows he was lying when he said he traveled to Kiev in the now-famous video where he bragged about traveling to Ukraine.
He never met with Poroshenko in Ukraine on March 2016, as he boasted about in the videos; instead, the vice president had lunch with Poroshenko in Washington D.C.
In addition to Biden lying about traveling to Ukraine, where he claimed he delivered his threatening message that resulted in the firing of Prosecutor Shokin, he also lied about the timing of his firing. Shokin was actually fired
two days before
Biden met with Poroshenko.