DOJ IG releases explosive report that led to firing of ex-FBI Deputy Director Andrew McCabe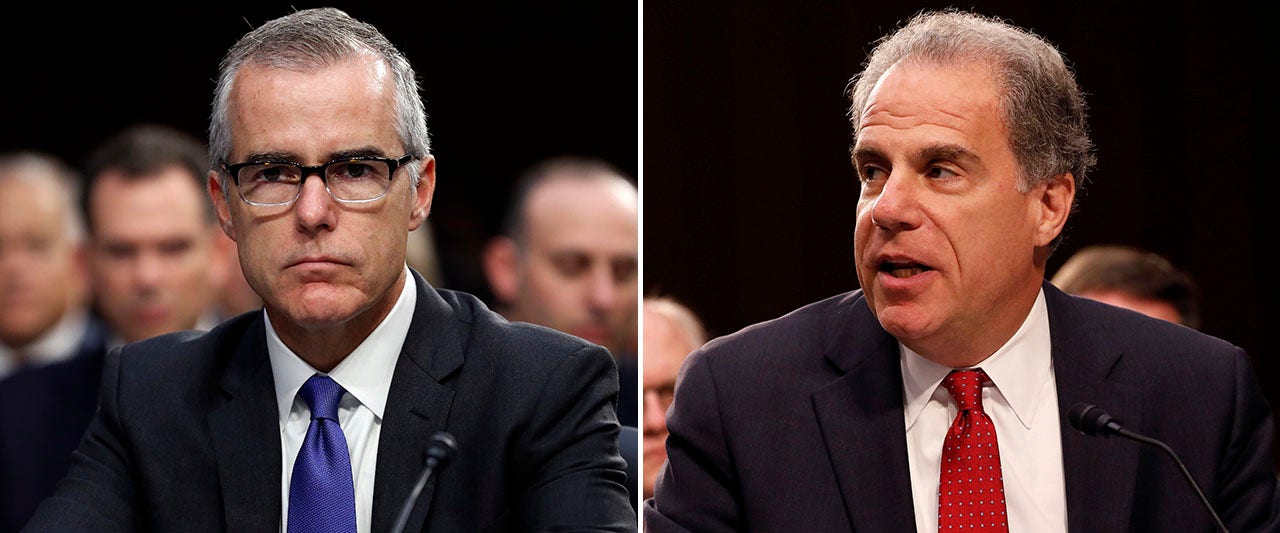 One of the things that are profoundly interesting and hopeful in this, beyond the information it contains is the timing of the release of this report by the OIG. No, not that it is Friday the 13th, but rather tonight is Comey's interview by the former Bill Clinton Press Secretary turned ABC reporter George Stephanopolous. This is an interview with Comey who was McCabe's boss, that has the entire Left slobbering in anticipation of a hate-filled interview meant to discredit the President. Coincidence, or might the OIG not be as left-leaning as the Deep State and would actually like to keep things in a bit of perspective? That is, McCabe, like his boss James Comey is a proven leaker and liar and one has to wonder if McCabe was accustomed to getting away with lying and leaking under a James Comey administration? Just a thought. -W.E.
FoxNews
Andrew McCabe, onetime acting FBI director, leaked a self-serving story to the press and later lied about it to his boss and federal investigators, prompting a stunning fall from grace that ended in his firing last month, says a bombshell report released Friday by the Justice Department's internal watchdog.
Inspector General Michael Horowitz, appointed by President Barack Obama, had been reviewing FBI and DOJ actions leading up to the 2016 presidential election.
The report, handed over to Congress on Friday and obtained by Fox News, looked at a leak to The Wall Street Journal about an FBI probe of the Clinton Foundation.
The report says that McCabe authorized the leak and then misled investigators about it, leaking in a way that did not fall under a "public interest" exception.
"[W]e concluded that McCabe's decision to confirm the existence of the CF investigation through an anonymously sourced quote, recounting the content of a phone call with a senior department official in a manner designed to advance his personal interests at the expense of department leadership, was clearly not within the public interest exception," the report says.
McCabe was fired from his role as FBI deputy director last month by Attorney General Jeff Sessions just days before he would have been eligible for a lifetime pension after it was determined that he misled investigators reviewing the bureau's probe of Hillary Clinton's email server.
Sessions said that McCabe "made an unauthorized disclosure to the news media and lacked candor − including under oath − on multiple occasions."
President Trump reacted to the report Friday in a highly charged tweet saying McCabe "LIED! LIED! LIED!" Trump also used the social media platform to describe allegations of collusion between his campaign and Moscow as "all made up by this den of thieves and lowlifes!"
DOJ just issued the McCabe report - which is a total disaster. He LIED! LIED! LIED! McCabe was totally controlled by Comey - McCabe is Comey!! No collusion, all made up by this den of thieves and lowlifes!

— Donald J. Trump (@realDonaldTrump) April 13, 2018
The report faults McCabe for leaking information of an August 2016 call to Wall Street Journal reporter Devlin Barrett for an Oct. 30, 2016, story titled "FBI in Internal Feud Over Hillary Clinton Probe." The story -- written just days before the presidential election – focused on the FBI announcing the reopening of the Clinton investigation after finding thousands of her emails on a laptop belonging to former Democratic Rep. Anthony Weiner, who was married to Clinton aide Huma Abedin.
The Journal's
account
of the call says a senior Justice Department official expressed displeasure to McCabe that FBI agents were still looking into the Clinton Foundation, and that McCabe had defended agent's authority to pursue the issue.
"Among the purposes of the disclosure was to rebut a narrative that had been developing following a story in The WSJ on Oct. 23, 2016, that questioned McCabe's impartiality in overseeing FBI investigations involving [Clinton], and claimed that McCabe had ordered the termination of the [FBI's Clinton Foundation investigation] due to Department of Justice pressure," the report says.
That leak confirmed the existence of the probe, which then-FBI Director James Comey had up to that point refused to do. The report says that McCabe "lacked candor" in a conversation with Comey when he said that he had not authorized the disclosure and didn't know who had done so.
The IG also found that he also lacked candor when questioned by FBI agents on multiple occasions since that conversation, where he told agents that he did authorize the disclosure and did not know who was responsible.
McCabe has denied doing anything wrong. "This attack on my credibility is one part of a larger effort not just to slander me personally, but to taint the FBI, law enforcement and intelligence professionals more generally," McCabe said in a statement after his firing last month.
In a letter submitted by McCabe's counsel after reviewing a draft of the report, McCabe argues that "the OIG should credit Mr. McCabe's account over Director Comey's" and complains that the report "paints Director Comey as a white knight carefully guarding FBI information, while overlooking that Mr. McCabe's account is more credible for at least three key reasons ..."
McCabe's counsel, Michael Bromwich, in a statement to Fox News, slammed the OIG report. "The core weakness of the OIG report is the lack of any understandable motive for his alleged wrongdoing. It is undisputed that Mr. McCabe was one of three senior FBI officials authorized to share information with the media, including on sensitive investigative matters," he said.
"He chose to exercise that authority in October 2016, during one of the most turbulent periods in the history of the bureau, with the knowledge of Director Comey and other senior members of FBI management. His purpose was to protect the institutional reputation of the FBI against false claims, including that a sensitive investigation was being shut down for political reasons."
McCabe and Bromwich seemingly sought to diminish the credibility of Comey, blasting his "recollection" as "not at all clear."
"Mr. McCabe's recollection of discussions he had with Director Comey about this issue is extremely clear; Director Comey's recollection is, by his own acknowledgment, not at all clear. And yet two of the lack of candor allegations are based on Director Comey's admittedly vague and uncertain recollection of those discussions. "
Senate Judiciary Committee Chairman Bob Goodlatte, R-Va., said that the report showed that the decision to fire McCabe "was the correct one."
"According to the inspector general report, Mr. McCabe repeatedly lied under oath about the disclosure of information to a reporter. In doing so, he not only violated FBI policy, but he may have committed a federal crime," he said in a statement.
Sen. Dianne Feinstein, the ranking Democrat on the committee, said that while she can't disregard McCabe's actions, "I'm disappointed the context wasn't given more weight."
"The rush to fire McCabe late on a Friday night, just hours before he was to retire, casts a tremendous shadow over the integrity of this process," she said in a statement. "There's really no way to look at McCabe's firing other than overtly political."
McCabe has been in the news since his firing, particularly over a GoFundMe campaign which raised more than $500,000 for a legal defense fund.
McCabe also wrote a dramatic op-ed for
The Washington Post
in which he again denied lying to or misleading investigators, and talked of the humiliation he had undergone over the probe and the way in which he was fired.
"Not in my worst nightmares did I ever dream my FBI career would end this way," he wrote.
Fox News' Chad Pergram, Jake Gibson and Alex Pappas contributed to this report.