Democrats planning protests for Trump's first State of the Union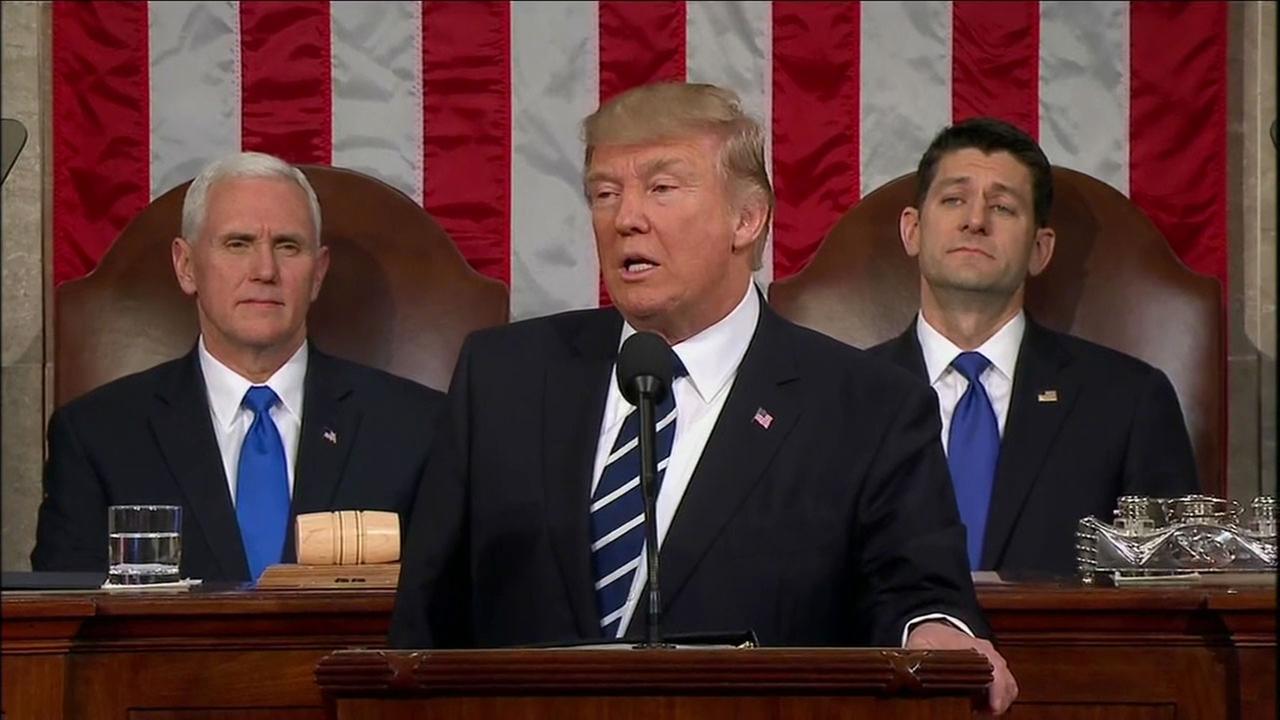 The Party whose logo is a jackass can't seem to bring themselves to celebrate, much less tolerate: lower taxes, a more secure border, a strong military, the defeat of the ISIS caliphate, standing up to dictators, a booming economy that includes all-time records on WallStreet, 17 year lows of unemployment, manufacturing turn around, less regulations on business or any of the dozens of accomplishments Trump has had in an amazing first year. All the Jackass party can do, is "resist", the well-known cry of communism for 100 years. With great pride, the Dem's continue to live up to their logo. -W.E.
TheHill
Democrats are already plotting ways to protest during President Trump's State of the Union later this month.
At least one lawmaker plans to boycott the speech entirely, with more Democrats possibly opting to skip the event as well. Female Democrats including House Minority Leader
Nancy Pelosi
(D-Calif.) plan to wear black to show solidarity with victims of sexual misconduct, just as Hollywood stars did at an awards show over the weekend.
Members of the Democratic Women's Working Group had been discussing ideas for a coordinated effort around the State of the Union after wearing white — the color of suffragettes — to Trump's first joint address to Congress last year. They settled on wearing black after watching the Golden Globes on Sunday.
Female Democrats are hoping that their display of black will help bring the "Me Too" conversation about rooting out sexual misconduct and women's issues to Trump's State of the Union on Jan. 30.
Rep.
Lois Frankel
(D-Fla.), the chairwoman of the Democratic Women's Working Group, said she also expects to give her guest ticket in the House chamber gallery to a person involved in the "Me Too" movement, but hasn't decided whom to invite yet.
"What we want is to really continue the conversation about sexual harassment in the workplace, about disparity of salaries where people work in the same job, and also getting paid for the value of your work," Frankel said.
She joked that lawmakers' attire won't be quite the same as at the Golden Globes: "I don't expect to see diamonds or a lot of flesh."
Last month, female lawmakers led by Frankel demanded that Congress launch an investigation into allegations of sexual misconduct against Trump that surfaced during the 2016 campaign. Three of the more than a dozen women who have accused Trump of sexual misconduct had also jointly called for lawmakers to probe the allegations against the president.
Beyond wearing white, Democrats found several other ways to protest Trump during his joint address to Congress in February 2017.
Rep.
Eliot Engel
(D-N.Y.) delivered a House floor speech announcing that he wouldn't try to get a prime seat along the center aisle to shake the president's hand for the first time since he began serving in 1989. Other Democrats sat along the center aisle, but quickly moved away as Trump approached to avoid shaking his hand on national television.
Many Democrats invited guests to make political statements, such as young immigrants, people affected by Trump's travel ban and Spanish-American celebrity chef José Andrés, who withdrew plans for a restaurant in Trump's Washington, D.C., hotel.
Most lawmakers haven't decided whom to invite as guests this year, but many may bring so-called Dreamers, or immigrants brought to the U.S. illegally as children, amid the negotiations over how to protect them from deportation. Frankel said that other members may also bring guests associated with the "Me Too" movement.
Trump announced last fall that the Obama-era Deferred Action for Childhood Arrivals (DACA) program would end on March 5. Republicans and Democrats are negotiating a deal that would allow DACA recipients to stay in the U.S. while enhancing border security.
Only two Democrats announced their intentions to skip Trump's address last year, compared to the more than 60 who boycotted his inauguration.
Reps.
Maxine Waters
(D-Calif.) and
Al Green
(D-Texas) both declined to attend Trump's appearance before a joint session of Congress last year.
Green at the time cited the decision of Trump's Justice Department to withdraw an argument opposing the Texas voter ID law.
Since then, Waters and Green have both agitated for Trump's impeachment. Green forced a House floor vote last month on his articles of impeachment against Trump, which 57 other Democrats supported.