Five Times Obama as a Presidential Hopeful Questioned the Validity of the Election Process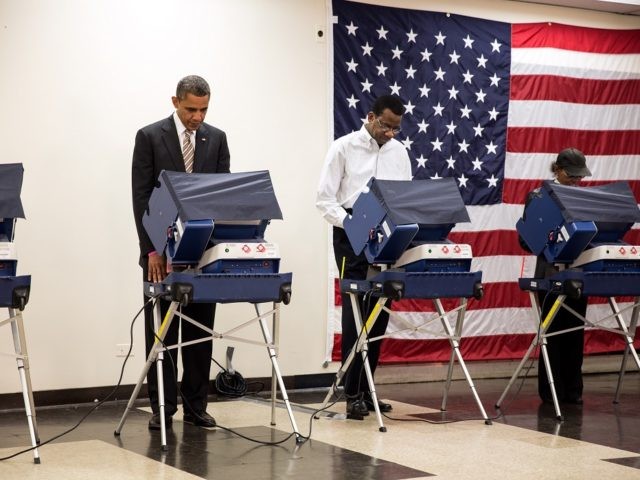 President Obama, a man that made a living being a "community organizer" and working with the poster child company of voter fraud, "Acorn" now says there is no such thing as voter fraud. Not what he has said in the past because you know, hypocrisy is a Liberal Virtue. Of course, that is the narrative the entire left is pushing....as they try and steal this election by hook or by crook. Emphasis on crook.

-W.E.
Breitbart
President Barack Obama accuses Republican presidential nominee Donald Trump of "whining," after his repeated statements on the upcoming presidential election being "rigged."
At a joint news conference with Italian Prime Minister Matteo Renzi, Obama says:
The notion that somehow if Mr. Trump loses Florida, it's because of those people that you have to watch out for, that is both irresponsible and, by the way, doesn't really show the kind of leadership and toughness that you want out of a president. If you start whining before the game's even over, if whenever things are going badly for you and you lose, you start blaming somebody else, then you don't have what it takes to be in this job because there are a lot of times when things don't go our way or my way.
However, as a presidential candidate Obama expressed concerns about the validity of U.S. elections. On numerous occasions before being sworn in as commander-in-chief, Obama decried flaws in the American election system, which included voter ID laws, rhetoric from Bush administration Justice Department officials and the agency's traditional handling of voter fraud investigations. In 2008, shortly before the general election, Obama even had acknowledged that elections had been "monkeyed" with in the past.
1) October 20, 2006 – Barack Obama in a joint press release with Rep. John Lewis and then-Sen. Chris Dodd (D-CT) accused the Georgia State Board of Elections of a "cynical attempt" to influence elections when a letter was inadvertently sent out telling voters to bring "proper government-issued photo identification" to the polls shortly after a Georgia Superior Court judge ruled the requirement violated the state constitution.
Partial press statement:
Today Rep. John Lewis (D-GA), and Senators Chris Dodd (D-CT) and Barack Obama (D-IL) sent a letter to U.S. Attorney General Alberto Gonzalez requesting federal investigation of an action taken by the Georgia State Board of Elections. The elections board sent out over 200,000 letters informing voters in mainly Democratic districts that they may not have the proper government-issued photo identification required to vote in the November 7th election. That letter would have been appropriate had a Superior Court judge in Fulton County not ruled last month that the Georgia photo-ID law violated the state constitution.
A prominent GOP member of the elections board contended the letters were slated for delivery before the judge's ruling, but evidence released from the secretary of state's office reveals the letters were sent to the post office after the judge issued his decision. Former Gov. Roy Barnes has filed a lawsuit against the state over the matter, and Rep. Lewis joined Senators Dodd and Obama requesting a federal investigation of the mailing to determine whether voting rights laws were broken.
"This seems like nothing more than a cynical attempt to influence elections by discouraging people to vote," Sen. Obama said. "It's crucial that we vigorously defend American citizens' right to vote, and this matter should be thoroughly investigated as soon as possible."
2) September 28, 2007 – Then-Sen. Barack Obama address gives remarks at the Howard University convocation in Washington, DC. In the speech to the audience at the HBCU, Obama vowed to scale back voter-fraud investigations in black and Latino districts and pursue investigations into voter suppression if elected president.
Remarks:
Like Katrina did with poverty, Jena exposed glaring inequities in our justice system that were around long before that schoolyard fight broke out. It reminds us of the fact that we have a system that locks away too many young, first-time, non-violent offenders for the better part of their lives – a decision that's made not by a judge in a courtroom, but by politicians in Washington. It reminds us that we have certain sentences that are based less on the kind of crime you commit than on what you look like and where you come from. It reminds us that we have a Justice Department whose idea of prosecuting civil rights violations is trying to rollback affirmative action programs at our college and universities; a Justice Department whose idea of prosecuting voting rights violations is to look for voting fraud in black and Latino communities where it doesn't exist.




We know these inequities are there. We know they're wrong. And yet they go largely unnoticed until people find the courage to stand up and say they're wrong. Until someone finally says, "It's wrong that Scooter Libby gets no jail time for compromising our national security, but a 21-year-old honor student is still sitting in a Georgia prison for something that wasn't even a felony. That's wrong."




…




From the day I take office as President, America will have a Justice Department that is truly dedicated to the work it began in the days after Little Rock. I will rid the department of ideologues and political cronies, and for the first time in eight years, the Civil Rights Division will actually be staffed with civil rights lawyers who prosecute civil rights violations, and employment discrimination, and hate crimes. And we'll have a Voting Rights Section that actually defends the right of every American to vote without deception or intimidation. When flyers are placed in our neighborhoods telling people to vote on the wrong day, that won't only be an injustice, it will be a crime.
3) October 19, 2007 – Then-Sen. Obama called on a the head of the Bush Justice Department's voting rights division John Tanner to be fired for saying voter ID laws hurt the elderly but aren't a problem for minorities because they often die before old age.
Obama called the remarks "patently erroneous, offensive, and dangerous"given they had come from a federal official charged with protecting voting rights in America.
Letter as follows:
October 19, 2007


The Honorable Peter D. Keisler
Acting Attorney General
Department of Justice
950 Pennsylvania Avenue, NW
Washington, DC 20530-0001


Dear Mr. Keisler:




On October 5, 2007, at the National Latino Congreso in Los Angeles, John Tanner, the chief of the voting rights section of the Civil Rights Division, spoke on a panel regarding minority voters. During the course of that discussion, which focused on recent state laws requiring photo identification for voting, Mr. Tanner said that such photo ID requirements disadvantage the elderly "[a]nd that's a shame." He explained: "You know, creating problems for elderly persons just is not good under any circumstance."




However, according to Mr. Tanner, such requirements do not disenfranchise minorities, and in fact, they actually benefit minorities. He said: "Our society is such that minorities don't become elderly the way white people do; they die first. There are inequities in health care. There are a variety of inequities in this country. And so anything that disproportionately impacts the elderly has the opposite impact on minorities; just the math is such as that."




Such comments are patently erroneous, offensive, and dangerous, and they are especially troubling coming from the federal official charged with protecting voting rights in this country. Mr. Tanner has already demonstrated questionable judgment in overruling the decision of Justice Department lawyers that the Georgia photo ID requirement would disproportionately discriminate against African Americans. For Mr. Tanner to now suggest, in an effort to defend his erroneous decision, that photo identification are not necessary for minority voters because "they die first" shows just how far the Justice Department has fallen. This is a disgrace and yet another reason why the next Attorney General must demonstrate a strong commitment to civil rights.




But, until the next Attorney General is confirmed, you are in charge of the Department, and you are in charge of ensuring that our laws are enforced and that the civil rights of all Americans are protected. Through his inexcusable comments, Mr. Tanner has clearly demonstrated that he possesses neither the character nor the judgment to be heading the Voting Rights Section. For that reason, I respectfully request that you remove him from his position.




Sincerely,





Barack Obama




United States Senator
4) April 28, 2008 – Democratic presidential hopeful Barack Obama decried a Supreme Court decision that upheld Indiana's voter ID law. He called the state's voter ID law and other like it "discriminatory barriers to the right to vote" in a written statement on the heels of the ruling.
Written statement as follows:
"I will continue to fight to ensure that all of our citizens have equal and unfettered access to the polls, including Indiana voters on May 6. Although I believe today's decision is wrong, I am encouraged that the court has not completely closed the door to future challenges to state voter ID laws that create discriminatory barriers to the right to vote."
5) September 4, 2008 – Then-Democratic presidential nominee Sen. Barack Obama was asked about a "rigged" election at a rally at Ohio's Kent State University. Obama admitted throughout history both Democrats and Republicans had "monkeyed" with elections. As president, he vowed to have a "non-partisan" division of the Justice Department committed to voting rights.
Remarks as follows:
I tell you what, it helps in Ohio that we have Democrats in charge of the machines.




But, look, I come from Chicago. So I want to be honest, it is not as if it is just Republicans who have monkeyed around with elections in the past. Sometimes Democrats have, too.




Whenever people are in power, they have this tendency to try to, you know, tilt things in their direction. That is why we have got to have a, I believe, a voting rights division in the Justice Department that is non-partisan and that is serious about investigating cases of voter fraud, is serious about making sure the people are not being discouraged to vote




That is why the voting rights legislation that was passed a couple years ago to help the county clerks to make sure that the machines are in place are important. That's why we need paper trails on these new electronic machines, so that you actually have something that you can hang on to after you punched that letter to make sure it has not been hacked into.




Those are all part of the process of making sure that our democracy works for everybody. One of the great things about this election has been all the interest that has been taken in this election. When I spoke Thursday night, there were more viewers than watched the finals of "American Idol." Now that is big. That is big. That's big. And I hope a lot of people are watching the Republican convention. I want people to have information. And then I want to make sure that our democracy is working the way it should be. This is very near and dear to my heart because when I was a lawyer, I practiced voting rights law. I filed a lot of lawsuits. In Illinois, I helped to make sure that you could go ahead and get at drivers' license facilities at the DMV. So I've been working on this for a long time. I think the more people participate, the more they are paying attention. Ultimately, the better off everybody is. OK? Hold on one second. It's the guys' turn.