'Baltimore Going To Burn' --Judge Finds Freddie Gray Arresting Officer Not Guilty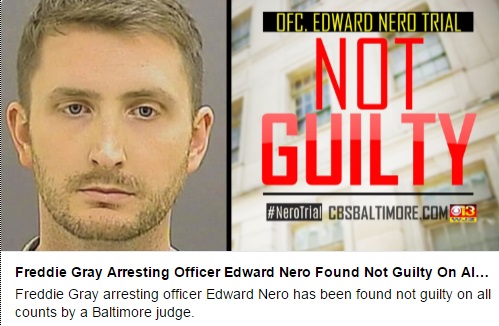 ANP
Within minutes of the judge's ruling finding Baltimore Police Offer Edward Nero not guilty of all charges for his role in the arrest of Freddie Gray, the Twitter hashtag #FreddieGray started trending as instigators pushing for riots and violence once again on the streets of Baltimore started spewing their hateful rhetoric as shown in just a small sample of screen shots below: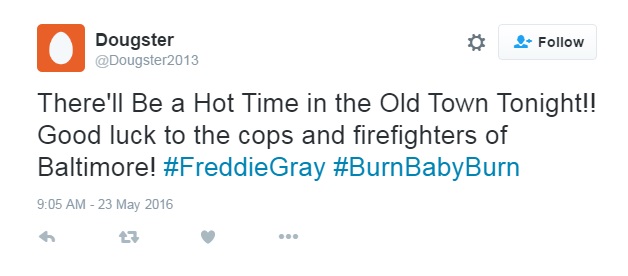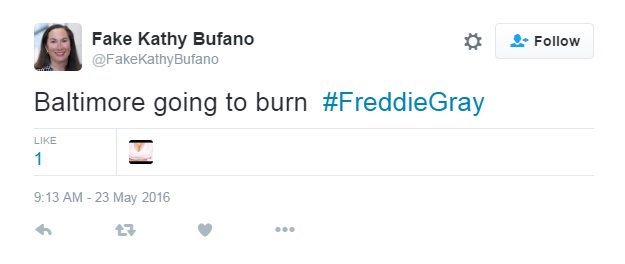 Then we have those like user BlackRevoltMovement celebrating the death of cops in a feed full of hatred, cussing and attempts to incite more hatred and division.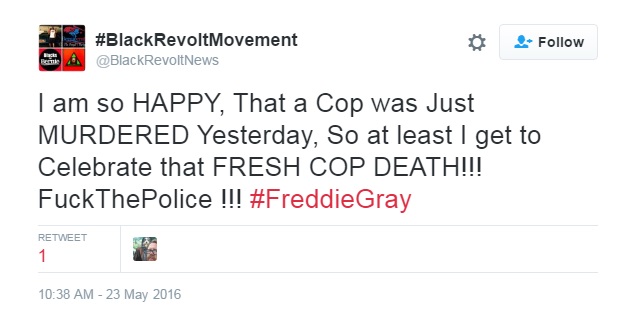 Days ago reports came out with lawmakers making preemptive pleas for calm ahead of the expected Nero verdict on Monday, with Congressman Elijah Cummings stating on May 20th, "We must remain vigilant to our moral code of peace, no matter what the verdict." Others followed suit after the verdict was rendered as reactions started coming in to The Baltimore Sun.
Perhaps one of the most telling statements in regards to what Baltimore is doing to prepare for potential protests and riots across the city, comes from the verified Twitter feed of the Montgomery Co. Police Department which issued a tweet directly after the verdict was announced on May 23rd, stating "Appox. 60-65 MCP Special Events Response Team officers are responding to Baltimore and will be under the direction of @BaltimorePolice.

It is a good thing we captured this in a screen shot (shown above) since within minutes of issuing that statement, it was deleted and can no longer be found on their official feed, leading us to wonder why it was removed?
Baltimore Mayor Stephanie Rawlings-Blake issued a warning to potential rioters as well, stating "Today Judge Barry G. Williams found Officer Edward Nero not guilty of all criminal charges. This is our American system of justice and police officers must be afforded the same justice system as every other citizen in this city, state, and country. Now that the criminal case has come to an end, Officer Nero will face an administrative review by the Police Department. We once again ask the citizens to be patient and to allow the entire process to come to a conclusion. In the case of any disturbance in the city, we are prepared to respond. We will protect our neighborhoods, our businesses and the people of our city."
Many may remember that Rawlings-Blake was heavily critized after the April 2015 riots in Baltimore when report revealed she had ordered police to stand down and to give the rioters "space" to destroy.
"It's a very delicate balancing act, because, while we tried to make sure that they were protected from the cars and the other things that were going on, we also gave those who wished to destroy space to do that as well," said Rawlings-Blake back in April 2015.
Baltimore City Fraternal Order of Police also issued a statement, shown below in full: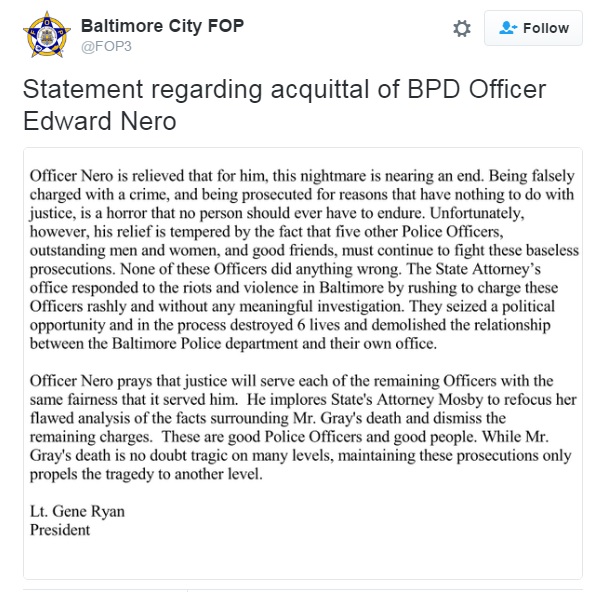 There also seems t[o] be a bit of a misunderstanding about the trial being seen in some comments across the Internet as well as those claiming racism was the cause of the not guilty verdict.
First of all, this was a bench trial as Officer Nero chose to not to have a jury trial, meaning the outcome was dependent on the judge himself weighing the evidence.
Secondly the Judge who presided over the case was Barry Glenn Williams Associate judge, Baltimore City Circuit Court, since December 2005.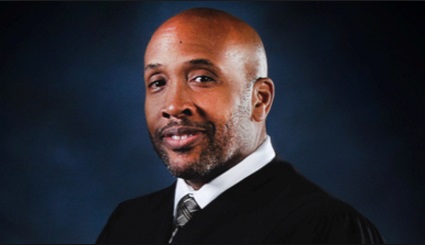 Career highlights: Led court's criminal division from 2012 until January. Chaired Criminal Justice Coordinating Council for Baltimore, 2012-2014. Special litigation counsel for the civil rights division of the U.S. Justice Department, 2002-2005. Trial attorney in the civil rights division of the U.S. Department of Justice, 1997-2002. Assistant state's attorney in Baltimore, 1989-1997.
Also for those claiming Nero got away with "murder," he wasn't charged with murder, he was found not guilty on four misdemeanor charges of second-degree assault, reckless endangerment and two counts of misconduct in office.