NSA Records MILLIONS of Webcam Feeds & Scans Computer Users with Facial Recognition to ID Them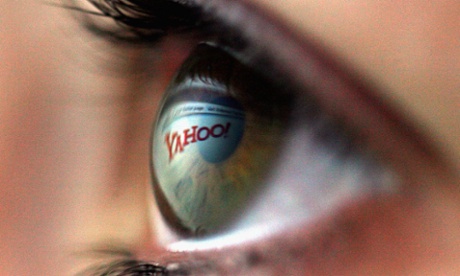 The GCHQ program saved one image every five minutes from the users' feeds. Photograph: Chris Jackson/Getty Images
Optic Nerve: millions of Yahoo webcam images intercepted by GCHQ
Britain's surveillance agency GCHQ, with aid from the US National Security Agency, intercepted and stored the webcam images of millions of internet users not suspected of wrongdoing, secret documents reveal.
GCHQ

files dating between 2008 and 2010 explicitly state that a surveillance program codenamed Optic Nerve collected still images of Yahoo webcam chats in bulk and saved them to agency databases, regardless of whether individual users were an intelligence target or not.
In one six-month period in 2008 alone, the agency collected webcam imagery – including substantial quantities of sexually explicit communications – from more than 1.8 million Yahoo user accounts globally.

GCHQ

does not have the technical means to make sure no images of UK or US citizens are collected and stored by the system, and there are no restrictions under UK law to prevent Americans' images being accessed by British analysts without an individual warrant.
The documents also chronicle

GCHQ

's sustained struggle to keep the large store of sexually explicit imagery collected by Optic Nerve away from the eyes of its staff, though there is little discussion about the privacy implications of storing this material in the first place.
Read the rest -Guardian
MarkDice
Is it just me and just a coincidence that the GCHQ, Great Britains "NSA" looks like a giant eye? As in an "all-seeing" eye?
Of course, the NSA Logo shows an eagle, with a key (just what every prisoner wants, the key to get out of their prison cell) in it's talon. Only one eye of the eagle is showing. Typical.
Of course, the giant black box is nothing...here is the new NSA facility, the $2 billion dollar facility that is:
The National Security Agency (NSA) is in the information harvesting business — and business is booming.
That's why the nation's premier covert intelligence gathering organization has been building a million square-foot data mining complex in Bluffdale, Utah, that
will house a 100,000 square foot "mission critical

data

center

.
"
The NSA's official mandate is to listen to and decode all foreign communications of interest to the security of the U.S.
And boy does it seem like an impressive operation.
One Fox News report says as much as 5 zettabytes — 1 zettabyte = 1 billion

terabytes

= 1 trillion gigabytes — and with just 1 zettabyte (1024 exabytes) of space, the NSA can store a year's worth of the global Internet traffic (which is estimated reached 966 exabytes per year in 2015).

Here's James Bamford of Wired, author of the book "The Shadow Factory: The NSA from 9/11 to the Eavesdropping on America":

"Once it's operational, the Utah Data Center will become, in effect, the NSA cloud. The center will be fed data from the agency's eavesdropping satellites, overseas listening posts, and secret monitoring rooms in telecom facilities throughout the U.S."