Retail Apocalypse? Major Chains Closing Hundreds Of Stores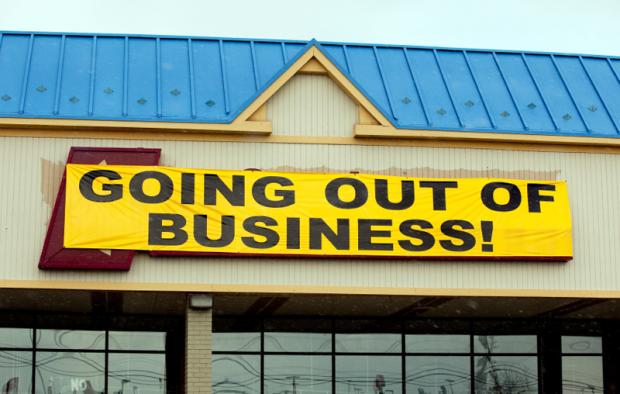 (Off the grid news) Hundreds of stores across the nation are closing as some of America's most famous retailers struggle to stay in business.
The country is facing what CNBC has labeled a tsunami of store closings and blogger Michael Snyder has called a retail apocalypse.
Sears, K-Mart, Best Buy and JC Penney are among the big names in American retail that could disappear in the coming years, according to investment analysts. If or when these chains collapse, thousands of jobs and hundreds of millions of dollars in sales tax revenue will disappear.
Major retailers are posed to close 300 stores in the United States this year and that is only the beginning, CNBC reported. Up to half of the retail stores in the United States could disappear in the next 10 years, analyst Michael Burden told CNBC.
"Shoppers will likely see an average decrease in overall retail square footage of between one-third and one-half within the next five to 10 years, as a shift to e-commerce brings with it fewer mall visits and a lesser need to keep inventory stocked in-store," Burden told CNBC.
Shocking Numbers of the Retail Apocalypse
The numbers related to the "retail apocalypse" are staggering.
New book reveals how to keep this "gangster" economy from murdering your money…
The scary statistics include:
JC Penney, which lost $586 million in three months in 2013, is planning to close 33 stores in 19 states and lay off 2,000 people. JC Penney's stock has lost 84 percent of its value since February 2012.
Sears has decided to shut down its flagship store in Downtown Chicago, and it has closed 300 stores in the United States since 2010. Stock analyst Brian Sozzi noted that Sear's inventory levels have fallen by 23.7 percent since 2006. He also noted that Sears had $4.4 billion in cash and equivalents in 2005 but $609 million in cash and equivalents in 2012. Sozzi, who calls himself a guerrilla analyst, has a blog full of disturbing pictures of empty Sears stores.
Macy's, one of the few retail success stories, is planning to close five stores and eliminate 2,500 jobs.
Radio Shack is preparing to close 500 stores, according to The Wall Street Journal.
Best Buy recently closed 50 stores and eliminated 950 jobs at stores in Canada.

Target announced plans to eliminate 475 jobs and not fill 700 empty positions to reduce costs.

Aeropostale is planning to close 175 stores.

Blockbuster has closed down all of its stores.
Retail Apocalypse Will Get Worse
No new indoor shopping malls have been built in the United States since 2006, real estate executive Rick Caruso told CNBC.
So what's causing the retail apocalypse? Different analysts have different answers. Motley Fool writer John Maxfield blames Amazon.com and other online retailers. Maxfield notes that online retailers have lower overhead and often can offer better prices.
He also said that many retailers are in much worse financial shape than many believe. To keep their shelves stocked, retailers such as Best Buy purchase goods on consignment. That is, a manufacturer ships items to the store that haven't been paid for yet. The idea is that the goods will sell and generate enough revenue to pay the bill.
The problem with this arrangement is that if the goods don't sell, the retailer still has to pay for them. If it cannot pay for the goods, the retailer may have to declare bankruptcy and shut down. That's what happened to Circuit City.
Is the Middle Class Disappearing?
Another popular theory is the number of middle class people who make up the majority of these stores' customers is falling. The New York Times recently found that businesses that sell to the rich are thriving while those that cater to the middle class such as Sears are floundering.
"As a retailer or restaurant chain, if you're not at the really high level or the low level, that's a tough place to be," PricewaterhouseCoopers Analyst John G. Maxwell told The Times. "You don't want to be stuck in the middle."