BREAKING! Obama Campaign Caught In Major NC Vote Fraud Scheme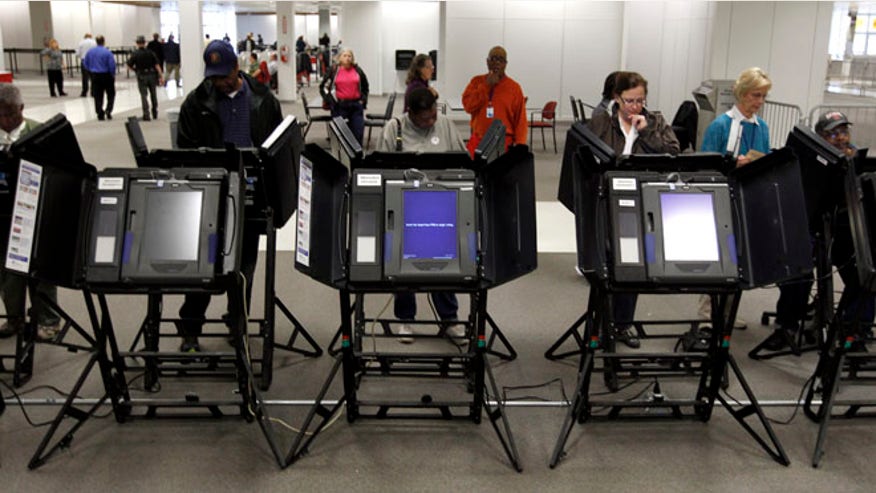 Examiner
February 19, 2013 North Carolina's Civitas Institute has revealed that the North Carolina State Board of Elections and the Obama campaign conspired to register at least 11,000 people via the internet in violation of state law. This has been confirmed through records requests filed with all of North Carolina's 100 counties. The counting is not yet complete.
North Carolina does not allow online voting, but according to Civitas, SBE staff authorized an Obama campaign website, Gottaregister.com, to use a web-based registration program. The SBE's chief lawyer responded to the charge with a plainly disingenuous 1984-newspeak answer:
Wright repeatedly denied that the SBE allowed online voter registration, insisting that it was "web-based voter registration"[ii] instead, as if there could be a "web-based" process that wasn't online.


The technology from Allpoint Voter Services uses remote-control pens to transmit "signatures" over the Internet, according to techpresident.com[iii]. After entering voter information in an online form, the citizen "signs" it with a stylus or a finger. The Allpoint technology records the signature and then transmits it to one of two autopens – one in California, the other in Nevada[iv]. One of the pens transcribes the signature on to a paper voter registration form. Allpoint then mails the documents to local election boards – or is supposed to, a point we'll come back to.


To say this is not "online" registration but "web-based" is like saying a certain vehicle is not a car, it's an automobile. The point of having a "wet signature" – one in ink – is to provide a universally accepted way proving that a prospective voter is affirming in person all the facts on the form. To have an auto pen inserted at one point in this long computerized process is a far different thing. Even the Obama campaign called it online voter registration. Because, no matter how you twist words around, that's what it is.
According to Civitas, three years ago the state began exploring ways to get around North Carolina voting laws in order to allow online voting. Currently California, Arizona, Colorado, Indiana, Kansas, Louisiana, Oregon, Utah, Washington, Nevada, Maryland, and New York allow some form of online voter registration. North Carolina and many other states do not. For obvious reasons, this method is fraught with vulnerabilities to fraud.
In August 2011, the SBE contacted an official from Verafirma, a company that, according to its website, is developing a "Democracy Project," which "will pioneer the use of electronic signatures for politics." Verafirma's co-founder is Jude Barry, a Democrat partisan who began as a press aide for Teddy Kennedy and subsequently worked on campaigns for Gary Hart, Richard Gephardt, Howard Dean and Barack Obama. Barry also founded Catapult Strategies, a political consulting firm with extensive ties in Silicon Valley, and Allpoint Voter Services, the company used to provide electronic registration signatures for North Carolina voters.
Allpoint bragged about the use of its machines in the 2012 election, even acknowledging the Obama campaign's activities in North Carolina:
President Obama's re-election campaign and Rock the Vote have both used the new service from the five-person startup Allpoint Voter Services in Oakland, Calif. The Obama campaign made the service available through its GottaRegister.com Web site to voters in North Carolina, 10 other states and the District of Columbia. Campaign finance records show that the campaign spent almost $43,000 from August through last week to use the service. Allpoint provided the service to Rock the Vote for free so that they could prove that the model works and can scale, says company spokesman Jude Barry.
According to Civitas, the Obama campaign may have been paying Allpoint per registration, in violation of federal law. They also raise the possibility that Obama's campaign may have been prioritizing registrations, accepting some electronically and requiring others to print and turn in their registrations by mail. Finally, county election officials reported that many of Allpoint's registration forms appeared to have very similar signatures. George Gilbert, Board of Elections Director for Guilford County, NC, said Allpoint registrations were "immediately suspect." While the Obama campaign couldn't directly control party affiliation of registrants, 68 percent of the registrations were for Democratic voters and 21 percent were unaffiliated. Only 10 percent were Republican voters.
North Carolina is no stranger to voting problems. An ongoing study by Civitas Institute's Myrick reported here, finds that 832 people over 112 voted by absentee ballot in 2012. Since there are only 330 people over 110 in the U.S. according to the 2010 census, this appears to be something of a record. 68.5 percent were democrats, (no surprise there), 27.5 percent republicans and 4 percent unaffiliated. A glitch causes ballots to default to January 1, 1900 when voters do not enter their birth date, which accounts for most of this. It is one of many problems with NC voter rolls, but according to Susan Myrick, they have not been allowed to correct these problems. As a result, the voter rolls are in a shambles and vulnerable to fraudulent votes.
As for the Obama administration, they have shown themselves over and over to be completely contemptuous of the law - from vote fraud to Fast-n-Furious; from Benghazi-gate to recess appointments and unconstitutional executive orders, the list is endless. As I described in a WorldNetDaily article last November, the Obama administration was willing to use whatever means at its disposal to win this election, legal and illegal. Up until now, my assumption has been that, while they plainly engaged in vote fraud in some circumstances, it wasn't enough to throw the election. Depending upon whether or not they used tricks like this nationwide - and they probably did - they may have in fact stolen this election.