Communist Valerie Jarrett Getting Rich While in Office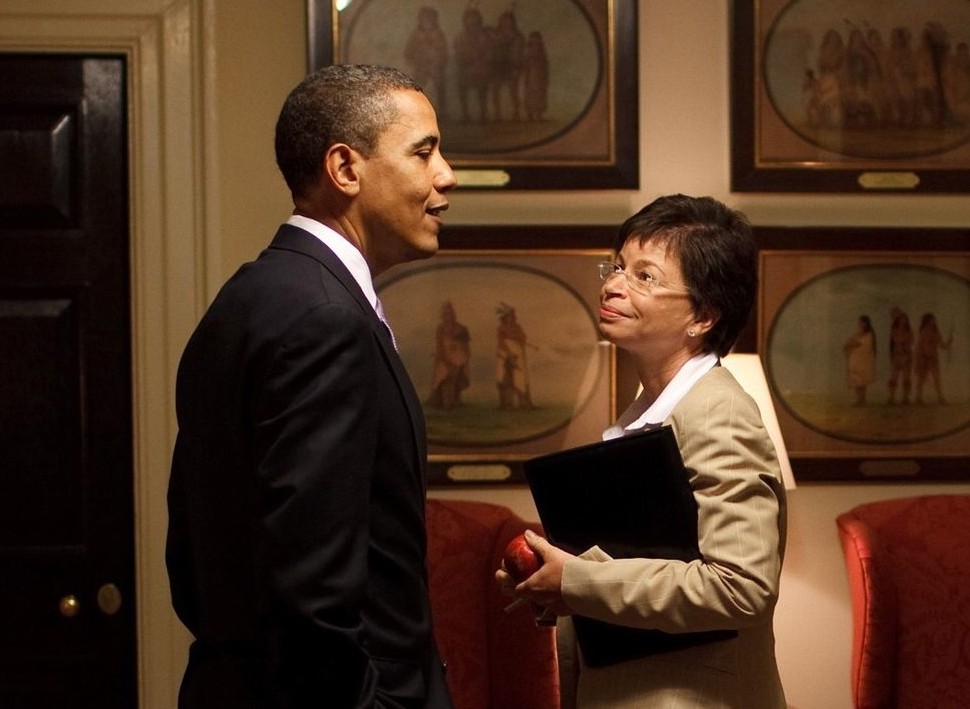 Politicians continue to get rich in office, aka Harry Reid and Nancy Pelosi, but don't worry about that, let's just keep asking Mitt about a ten year history of tax returns shall we? Oh, and that little nuisance of how Obama has $4Million bucks to spend on attorney's to block access to his school records, medical records and why he has a Connecticut Social Security number (etc.)? Yeah, let's not worry about that either. Somehow I am sure it's all Bush's fault.
- W.E.
Commieblaster
FreeBeacon
Jarrett Towers
White House senior adviser Valerie Jarrett's real-estate investment jumped in value between 2010 and 2011, documents show
Senior White House adviser and long-time Obama confidant Valerie Jarrett's role in a number of controversial Chicago housing developments has garnered her investments worth millions of dollars while highlighting the administration's extensive business ties to presidential donors.
Before joining the Obama administration in 2009, Jarrett was president and chief executive officer of the Habitat Company, a real estate development firm founded by major Democratic donor Daniel Levin. Before that, she served three years as commissioner of the Chicago Department of Planning and Development under Mayor Richard Daley.
She valued the investment at between $1 million and $5 million on her 2011 financial disclosure form, up from $250,001 in 2010. A Jarrett spokesman told the Washington Times that the investment was "a direct result of her 13 years working for Habitat."
Cook County records show the Kingsbury property is worth around $27.2 million, but thanks to a series of legal appeals beginning in 2003, the land and building are assessed at a much lower value for tax purposes. Since 2008, the property has been designated a "special commercial structure" and is taxed at a value of just $6.8 million, or 25 percent of the actual value.
Asked how such a property could enjoy such a low taxable value, an official with the Cook County Assessor's Office told the Free Beacon that the property's owners "must have good attorneys."
In addition to Jarrett's investment through her former employer, she received deferred compensation of more than $556,000 in January 2009, on top of her $302,000 salary the previous year.
Levin, the firm's founder, has close ties to the Obama administration and the Democratic Party. Levin and his wife, Fay Hartog Levin, are long-time acquaintances of the president's, and have personally donated nearly $1 million to Democratic candidates and committees since 1989, including about $25,000 each to Obama.
The Levins each hold personal stakes in the Kingsbury development worth at least $1 million as of 2011.
Jarrett's involvement in Chicago real estate development between 1992 and 2009 was marred with controversy, much of which centered on Habitat's role as the sole developer for "family public housing," a status granted under a district court ruling in 1987.
Under Jarrett's leadership, Habitat oversaw the development of a number of public housing projects, one of which, in the Cabrini Green neighborhood, was dubbed a "national symbol of urban despair." Others became so run-down the city had to ask the federal government to intervene.
A 2003 Harvard Law Review article cited the decline of the Cabrini Green development as an embodiment of the negative consequence associated with the "privatization of public housing."
"They are rapidly displacing poor people, and these companies are profiting from this displacement," Matt Ginsberg-Jaeckle of Southside Together Organizing for Power, a Chicago community organization,

told the Boston Globe in 2008.
Habitat and the Chicago Housing Authority in 2000 announced an ambitious, multi-million dollar "Plan for Transformation" in an effort to revitalize the city's decrepit housing projects. The plan involved the establishment of Tax Increment Financing (TIF) districts, an accounting method through which state and local governments would subsidize redevelopment projects.
Such financing often leads to an increase in property values in surrounding areas, benefitting developers such as Habitat. The Kingsbury property in which Jarrett owns a stake lies just outside a TIF district.
The Cabrini Green neighborhood in 1997 was designated a "blighted" area, a portion of which was established as a TIF district. Thousands of families were displaced and many relocated to unsafe, unfinished housing projects elsewhere in the city. Experts questioned whether redevelopment resulted in a net benefit for the city.
The city's transformation plan included an effort to establish a separate TIF district just south of Cabrini Green in the Kingsbury neighborhood, a relatively well-off area that did not initially meet the Chicago Community Development Commission's (CCDC) requirements for TIF status.
The city ultimately approved the project on the grounds that the neighborhood was a "conservation area" and argued that its redevelopment would help revitalize the blighted Cabrini Green area.
The CCDC held a public hearing on February 29, 2000, regarding the Kingsbury development project, but it is unclear if Jarrett or other Habitat executives testified in favor of granting TIF status.
The transcripts of such hearings are typically turned over the Chicago Municipal Library as a matter of public record. The transcript from that particular hearing, however, was never provided. A CCDC representative told the Free Beacon the document was unavailable but could be requested through the Freedom of Information Act.
The White House and the Habitat Company did not return requests for comment.