More Obama Diplomacy: Pakistan Says U.S. Drones in its Air Space Will Be Shot Down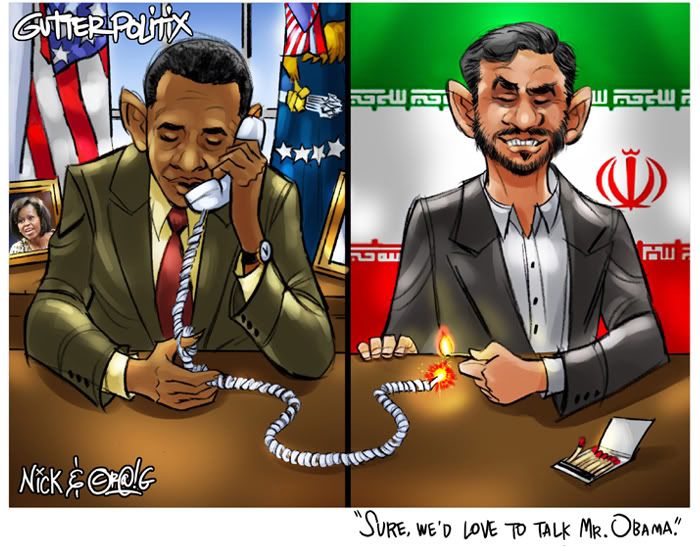 Atlas Shrugs
Is anyone else unnerved by the abject failure of President Charisma's relationships with our allies and adversaries? The media carped endlessly about Bush's ineptitude in diplomacy and all that jazz, but he was respected, admired and feared (as Bush went, so the country went as well). Obama is laughed at while he is giving away the store.
Bush deftly handled Musharraf, Karzai, Putin, Blair, Mubarak ............ all of them. Obama bows to them all while they kick him in the ass -- and we feel the sting.
Pakistan says U.S. drones in its air space will be shot down
NBC News, msnbc.com (hat tip Kenneth)
ISLAMABAD -- Pakistan will shoot down any U.S. drone that intrudes its air space per new

directives

, a senior Pakistani

official

told NBC News on Saturday.
Asghar Achakzai / AFP - Getty Images file
Pakistani

security

personnel examine a crashed US

surveillance

drone inside Pakistan in August.
According to the new Pakistani defense policy, "Any object entering into our air space, including U.S. drones, will be treated as hostile and be shot down," a senior Pakistani military official told NBC News.
The policy change comes just weeks after a deadly NATO attack on Pakistani military checkpoints accidentally killed 24 Pakistani soldiers, prompting Pakistani officials to order all U.S. personnel out of a remote airfield in Pakistan.
Pakistan told the U.S. to vacate Shamsi Air Base by December 11.
A senior military official from Quetta, Pakistan, confirmed to NBC News on Saturday that the evacuation of the base, used for staging

classified

drone flights directed against militants, "will be completed tomorrow," according to NBC's Fakhar ur Rehman.
Pakistan's Frontier

Corps

security forces took control of the base Saturday evening after most U.S. military personnel left, Xinhua news agency reported. Civil aviation officials also moved in Saturday, Xinhua said.
Pakistani Military Chief Gen Ashfaq Pervez Kayani had issued multiple directives since the Nov. 26 NATO attack, which included orders to shoot down U.S. drones, senior military officials confirmed to NBC News on Saturday.
It was unclear Saturday whether orders to fire upon incoming U.S. drones was part of the initial orders.
T. Mughal / EPA file
The Pakistani airbase had been used by U.S. forces, including the CIA, to stage elements of a clandestine U.S. counter-terrorism

operation

to attack militants linked to al-Qaida, the Taliban and Pakistan's home-grown Haqqani network, using unmanned drone aircraft armed with missiles.
President Barack Obama stepped up the drone campaign after he took office. U.S. officials say it has produced major successes in decimating the central leadership of al-Qaida and putting associated militant groups on the defensive.
Since 2004, U.S. drones have carried out more than 300 attacks inside Pakistan.
Pakistani authorities started threatening U.S. personnel with eviction from the Shamsi base in the wake of the raid last May in which U.S. commandos killed Osama bin Laden at his hide-out near Islamabad without notifying Pakistani officials in advance.