HYATT HOTEL BOWS THEIR WOBBLY KNEES TO RADICAL ISLAM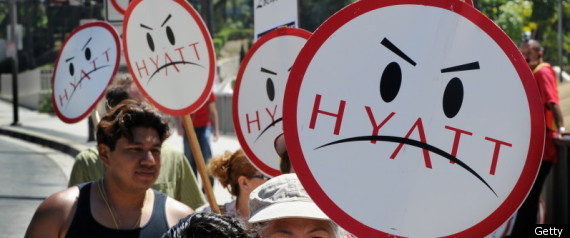 Atlas Shrugs
I just had to post this story. When HYATT can let Ahmadinejad stay at their hotel, a man who denies the holocaust and wants to wipe Israel from the map...not to mention his proxy terrorist groups that fight against the U.S. around the world, yet does not allow an American her privilege of free speech, this is just well, read her first paragraph and you will know how I feel. She said it well.
Geller Will Speak in Sugarland! Different Venue Found after Craven Cancellation by Cowards at Hyatt Place -- Long Live Free Speech
Earlier I reported that
Hyatt Place Houston/Sugar Land
prostrated themselves, wet their pants and cancelled tonight's event where I was scheduled to speak. In a stunning surrrender to Islamic supremacism, free speech suffered yet another setback.
Did you call and read them the first amendment? I urge all Atlas readers to boycott these sniveling cowards.
Mind you, where does Mahmoud Ahmadinejad stay and entertain his murdering comrades when he comes to New York? The Hyatt.
16730 Creek Bend Drive
Sugar Land, TX 77478, USA
Phone:

+1 281 491 0300

Fax: +1 281 491 0325
A leftwing loonsite ran this:
Alert/Alert – The General Manager of the Hyatt Place

Hotel in

Sugar Land, Texas called me at 10:30am Monday, Oct 17th and informed me that the Hyatt Place

Hotel

has canceled the Sugar Land Tea Party event with Ms. Pamela Geller as speaker and they have informed the Sugar Land Tea Party. On behalf of the leadership of the Sugar Land Democrat Club and the Fort Bend County Democratic Party and all citizens of Sugar Land Fort Bend County who respect and believe in diversity I wish to thank the Hyatt Place Hotel of Sugar Land for canceling this event. We will not hold our protest outside the Hyatt Place Hotel. Please stay tuned for further announcements later today.

The manager of the Hyatt did not know of Ms. Geller's work and apologized deeply.
The kickin' Sugarland tea party organizers would not take no for an answer. They have found a new venue.
Sugar Land Community Center (Across from old Sugar Land Post Office)
226 Matlage Way
Sugar Land, TX 77478
6:30 pm
I invite all freedom lovers to come. Listen to what they want to keep you from hearing -- the truth.
UPDATE: Here is a great letter veteran and Atlas reader Arthur S. wrote to Hyatt:
I have officially sold my shares in Hyatt as of 6 minutes ago, switched my frequent traveler hotel stays to a competitor, and all this to avoid the Hyatt from this day forward. I may not agree with things people say but by God I fought for this country long and hard enough for them to have that right here in America to say it. That you would cancel an event due to pressure from an UN-American Islamist group like CAIR... You've lost my business. I am sending this on to every employee I know, every business owner here in Texas I deal with, and officially I will boycott the Hyatt for life for you lack of business sense. Cowards the entire Hyatt group is for allowing this to happen. Shame on you for your cow towing to a group of terrorists. Even they have a right to speak in America no matter how sick they are. So hopefully they travel enough to keep the Hyatt in business because from this day forth you no longer have me as a customer and I am going to make darn sure everyone I know understands the corporate cowardice in our nation.
G-d bless you, AS. And thank you for your continuing service.