French Amphibious Carrier Arrives in Japan for Pacific Drills Amid Growing North Korea Tensions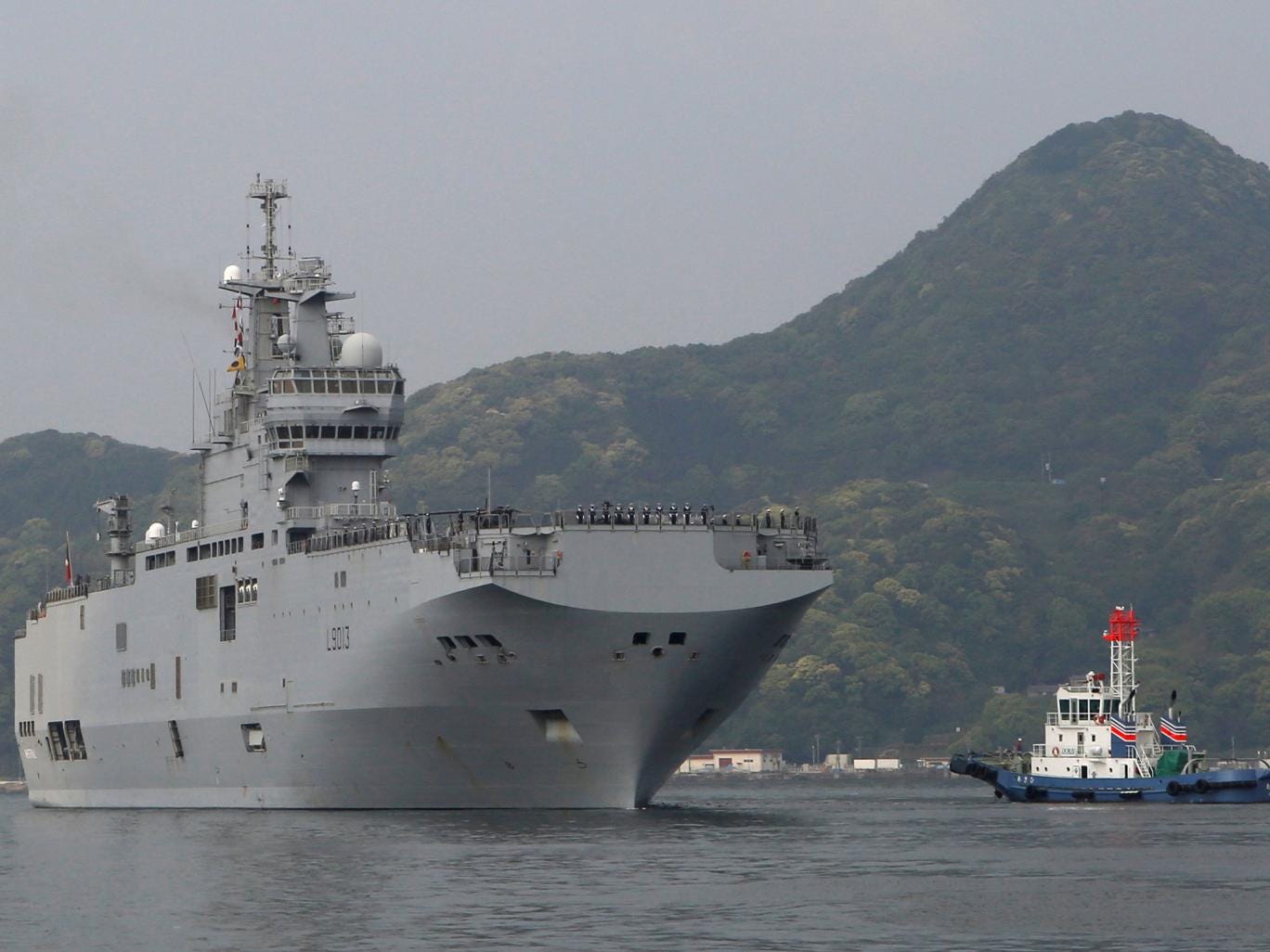 French amphibious assault ship Mistral arrives at Japan Maritime Self-Defense Force's Sasebo naval base in Sasebo
Good to see our allies preparing too. This may or may not make the little dictator blink, but it should give China pause to consider additional pressure on the Norks to stand down. News has also come out that the Trump administration is interested in sitting down and actually talking with the Norks. What a novel idea before a major conflict between two nuclear powers breaks out.
Secretary of State Tillerson is also calling on the normally useless U.N. to put additional sanctions on North Korea, for whatever that is worth.
-W.E.
See also:
BATTLE STATIONS US Warship Sails Within 'Striking Distance' of North Korea
Independent
As tension spikes on the Korean peninsula, a French amphibious assault carrier sailed into Japan's naval base of Sasebo on Saturday ahead of drills that risk upsetting China, which faces U.S. pressure to rein in North Korea's arms programmes.
The Mistral will lead exercises next month near Guam, along with forces from Japan, the United States and Britain, practising amphibious landings around Tinian, an island about 2,500 km (1,553 miles) south of the Japanese capital of Tokyo.
The drills, involving 700 troops, were planned before Saturday's test-firing of a ballistic missile by North Korea, in defiance of world pressure, in what would be its fourth successive unsuccessful missile test since March.
Japan and the United States are worried by China's efforts to extend its influence beyond its coastal waters and the South China Sea by acquiring power-projecting aircraft carriers, a concern shared by France, which controls several Pacific islands, including New Caledonia and French Polynesia.
Even as they seek stronger economic ties with China, both France and Britain, which has two navy helicopters aboard the Mistral, are deepening security cooperation with Japan, a close US ally that has Asia's second-strongest navy after China.
The Mistral forms part of an amphibious task force mission, the Jeanne d'Arc, that is "a potent support to French diplomacy," the country's defence ministry said in a statement.
Officials and children's welcome dances greeted the Mistral in Sasebo, on the western island of Kyushu, a major naval base for Japan's Maritime Self Defense Force (MSDF) and the US Navy.
The Mistral, which left France in February, can carry up to 35 helicopters and four landing barges, besides several hundred soldiers. It will stay in Sasebo until 5 May.
This month China launched its first domestically-built aircraft carrier, the Shandong. It joined the Liaoning, bought from Ukraine in 1998, which led a group of Chinese warships through waters south of Japan in December.
China's military ambitions, however, have been overshadowed in recent weeks by tension on the Korean peninsula as Pyongyang conducts long-range missile tests, and prepares for a possible sixth nuclear test.
In a show of force, the United States has sent the USS Carl Vinson aircraft carrier group to nearby waters, where it will join the USS Michigan, a guided missile submarine that docked in South Korea on Tuesday.
The Carl Vinson entered the Sea of Japan on Saturday, where it completed naval drills with two Japanese warships dispatched from Sasebo, an MSDF spokesman said.