TROJAN HORSE JIHAD: State Department Sets Single-day Record for Syrian Refugee Approvals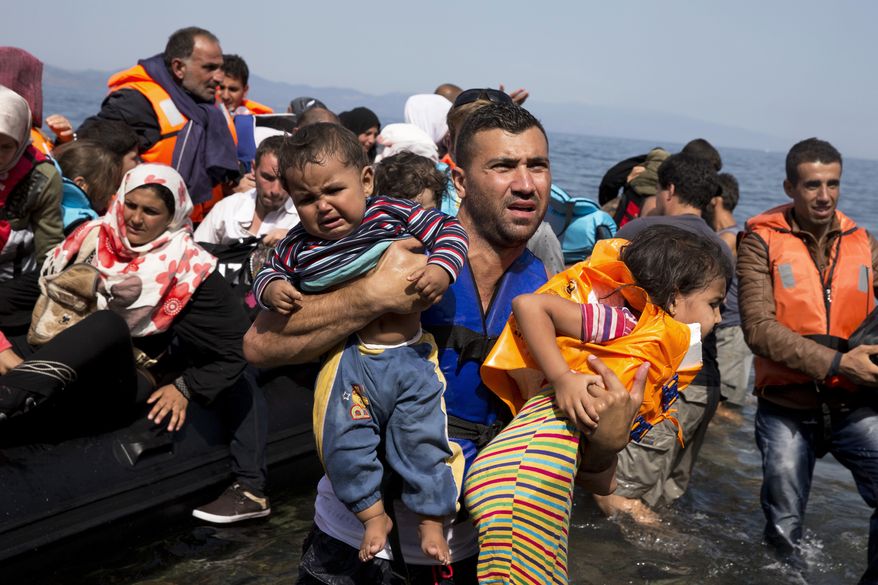 This WILL come back to hurt and kill Americans. The 10,000 or more Syrian refugees that Barry Soetoro is dead set on bringing into America, of whom will be mainly Muslim will include radical elements, if not just plain ISIS or other terror groups that are purposeful plants to wage Jihad in America. How can I be so sure? Number one is just calculating the odds and using common sense. These are not the Irish, the Italians or even Mexicans. These are Syrian, Sunni Muslims. Duh.
Number two, it's already happened when up to 8 Syrian refugees were part of the terror attack in Paris. At least two of which were responsible for 89 deaths.
Yeah, Obama knows exactly what he is doing.

-W.E.
WashingtonTimes
The State Department admitted 80 Syrian refugees on Tuesday and 225 on Monday, setting a single-day record, as President Obama tries to meet his target of 10,000 approvals this year — renewing fears among security analysts who say the administration is cutting corners to meet a political goal.
Officials insist they are moving faster because of improvements in screening and say they are still running all the traps on applicants.
But the spike is stunning, with more people accepted Monday alone than in the entire months of January or February.
---
PHOTOS: Top 10 handguns in the U.S.
---
"The Obama administration is on full throttle to admit as many people as possible before the time clock runs out on them," said Jessica Vaughan, policy studies director at the Center for Immigration Studies. "This is the classic scenario when political expediency trumps prudence, and someone slips through who shouldn't have, and tragedy ensues."
Powerless to stop the civil war in Syria, Mr. Obama has instead offered the U.S. as a haven for some of those fleeing the conflict.
He promised to accept 10,000 refugees from Oct. 1 through Sept. 30. As of Tuesday evening, the administration had approved 2,540 — an average of about 10 applications a day.
To meet the 10,000 goal, approvals will have to rise to nearly 60 a day.
U.S. Citizenship and Immigration Services, the agency charged with vetting the applications, declined to comment on the surge and referred all questions to the State Department, which gives final approval. Officials there insisted that they can meet Mr. Obama's goal without sacrificing security.
From February through April, the department deployed extra staff to Jordan, where some 12,000 applicants referred by the U.N. were interviewed. The department is also conducting interviews of Syrians in Lebanon and Iraq and said everything is going according to plan.
"Increases in processing capacity have improved our capacity to meet the 10,000 target for Syrian refugee admissions for this fiscal year. As such, we expect Syrian refugee arrivals to the U.S. to increase steadily throughout the fiscal year," an agency official said.
The department says refugees undergo the most checks of anyone applying to enter the U.S. and that Syrians are getting as much scrutiny as possible.
But pressure to speed up the process is growing. Last week, Senate Democrats, led by Sen. Richard J. Durbin of Illinois, fired off a letter that said other countries are approving refugees faster and demanded that the administration catch up.
"Refugees are victims, not perpetrators, of terrorism," the Democrats wrote.
In January, however, two men who arrived as part of the refugee program were charged with terrorism-related offenses.
One of them, Iraqi-born Aws Mohammed Younis Al-Jayab, was living in Syria when he was admitted as a refugee in 2012. The State Department counts him as part of its Iraqi refugee program, not the Syrian refugee program.
The Obama administration has repeatedly cited the Iraqi program as evidence that it can safely admit refugees from Syria. But security analysts say the U.S., by dint of the long war in Iraq, has access to government databases and a presence on the ground to help verify refugee applicants' stories.
The U.S. has no such access in Syria, where it considers the regime an enemy and much of the country is occupied by terrorist forces from the Islamic State.
Critics say the Obama administration is too heavily focused on Muslim refugees and has left hundreds of thousands of Christians behind. Statistics show only a dozen Christian refugees from Syria have been accepted so far — a rate of less than one-half of 1 percent.
More than 97 percent are Sunni Muslims.
Congressional Republicans have called for a slower approach to admitting refugees but have been powerless to stop Mr. Obama. Democrats filibustered a proposal to require the chiefs of Homeland Security, intelligence and the FBI to sign off on every refugee's application.
The House will take another step Wednesday when the Judiciary Committee votes on legislation requiring USCIS to check the social media profiles of all applicants seeking visas from suspect countries.
States also have tried to block Mr. Obama, renouncing agreements to work with the administration to resettle refugees within their borders. Texas even sued to try to bar resettlement, but a federal court rejected the lawsuit, saying the state didn't have standing.