Soros Board Member Chairs Firm Running Online Voting for Tuesday's Utah Caucuses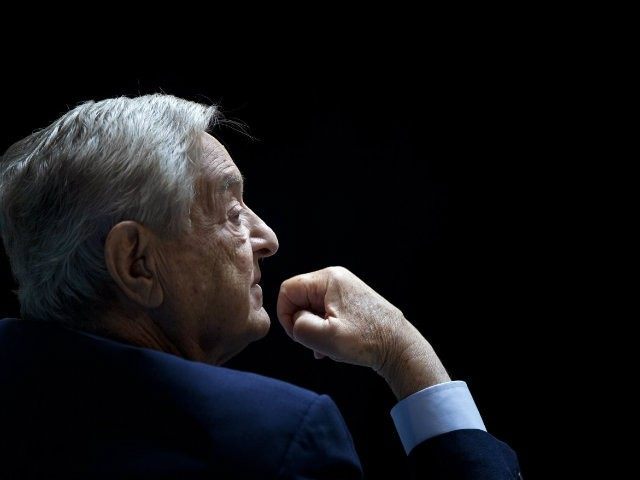 Breitbart
Smartmatic Group, an electronic voting firm whose worldwide headquarters is located in the United Kingdom, will be running the online balloting process in the Utah Republican Open Caucuses on Tuesday.
The chairman of Smartmatic's board, Lord Mark Malloch-Brown, currently serves on the board of George Soros's Open Society Foundation and has close ties to the billionaire.
The Wall Street Journal dubbed the Republican party's online adventure on Tuesday as "one of the biggest online votes conducted so far in the U.S." and the "largest experiment with online presidential voting since 2004, when Michigan allowed Democrats to vote in a party caucus via the Internet."
The Journal further reported:
Utah residents will have the option of casting ballots in the Republican presidential contest using computers, tablets, and smartphones next week. …




Online "polls" will be open between 7:00 a.m. and 11 p.m. on March 22. Voters will get a receipt that will verify that their vote was recorded correctly. The state party declined to release the number of online voter registrations that it has received. …


"We expect all the jurisdictions across the U.S. to take notice and to look at this experience as something to study and, hopefully, follow," said Antonio Mugica, founder and chief executive of Smartmatic Group, an election-equipment vendor that is running the Utah election.
Mugica addressed security concerns about online voting, telling the Journal that Smartmatic has security protocols and backups of the election data should a recount be needed. He said he wasn't aware of any security breaches.
The Journal did not cite the biography of Malloch-Brown, chairman of Smartmatic's board. That biography is posted openly on Smartmatic's website, and shows close associations between Malloch-Brown and Soros, a major donor to the Democratic Party and hundreds of liberal and radical-left groups.
The bio states:
Mark Malloch-Brown is a former number two in the United Nations as well as having served in the British Cabinet and Foreign Office. He now sits in the House of Lords and is active both in business and in the non-profit world. He also remains deeply involved in international affairs.




Mark served as Deputy Secretary-General and Chief of Staff of the UN under Kofi Annan. For six years before that he was Administrator of the UNDP, leading the UN's development efforts around the world. He was later Minister of State in the Foreign Office, covering Africa and Asia, and was a member of Gordon Brown's cabinet.


Other positions have included vice-chairman of George Soros's Investment Funds, as well as his Open Society Institute, a Vice-President at the World Bank and the lead international partner at Sawyer Miller, a political consulting firm. He also has served as Vice-Chairman of the World Economic Forum. He began his career as a journalist at The Economist.
Besides formerly serving as vice-chairman of Soros's Investment Funds and the billionaire's Open Society Institute, Malloch-Brown is currently a global board member of Soros's Open Society Foundation.
As further documented in his Smartmatic Group bio, Malloch-Brown also serves on the small board of the International Crisis Group, a Soros-financed international crisis management organization. Soros himself sits on the ICG's small board.
Besides their worldwide headquarters in London, Smartmatic lists offices in 13 other countries. Their U.S. offices are located in Boca Raton, Florida.
Tuesday's Utah GOP Caucuses are considered an important test for online voting, which seems poised to expand in future elections. Last month, Microsoft's vote-counting technology was utilized in the Iowa Caucus.
Obama last week called for future online voting while speaking at the South by Southwest technology and music festival. He said the technology world should debate "how can we create safe, secure, smart systems for people to be able to vote much easier online."
In a press release, Smartmatic's Mugica responded directly to Obama's call for online voting, stating, "President Obama's call was surprising in only one respect—that it caused a stir."
"In a world where we can buy a house, take a degree course, and access government services online, it does not make sense that elections don't use tried and tested technology," added Mugica. "I agree with the President. The future of democracy is digital."
In January 2014, Obama's 10-person Presidential Commission on Election Administration released its recommendations for reforming the U.S. election process, including transitioning to voting via tablet computers and other technologies, as Breitbart reported.
The commission recommended:
Software-only products can be integrated with off-the-shelf commercial hardware components such as computers, laptops, tablets, scanners, printers, and even machine-readable code scanners and signature pad products.




Tablet computers such as iPads are common components of these new technologies. They can be integrated into the check-in, voting, and verification processes in the polling place.
The commission highlighted new technologies in which the voter can "pre-fill" sample ballots at home to be scanned later at the polling place.
The panel dismissed concerns about hacking. The commission stated: "The fact that a tablet or off-the-shelf computer can be hacked or can break down does not mean such technology is inherently less secure than existing ballot marking methods if proper precautions are taken."
With research by Brenda J. Elliott.