Operation 'Iron Focus': 6,500 Soldiers Train with Live Gunfire On Mexico Border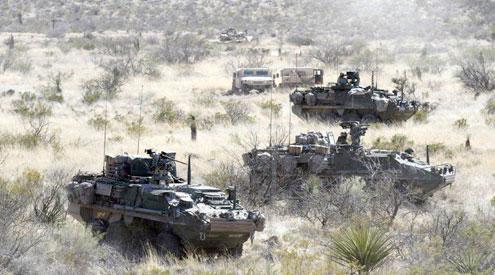 DAHBOO777
Machine gun fire filled the air as tanks rolled across the vast desert in the culminating training for Iron Focus, involving 6,500 troops training at Fort Bliss.

"They've got to smell the gunpowder. They have to be able to hear the rounds," said Maj. General Stephen Twitty, commanding general at Fort Bliss.

After years of focusing on battling insurgents in cities, the massive training exercise is a renewed emphasis on large scale warfare.

"What we're really trying to do is get back to what I call the blocking and tackling of war fighting. For the past 13 years we've been at war, we've been fighting a counterinsurgency fight," said Twitty.

The soldiers involved in Iron Focus are training to face a "hybrid threat that is our ability to fight counterinsurgency all the way up to ability to fight large scale armies," said General Twitty.

It's the closest thing to combat for many of the soldiers. The exercise involved mortars, attack helicopters, unmanned aerial vehicles -- commonly known as drones -- as well as tanks.
http://www.wfaa.com/story/news/local/...
777