REPORT: IRAN PLANNING ATTACKS ON U.S. TARGETS IN TURKEY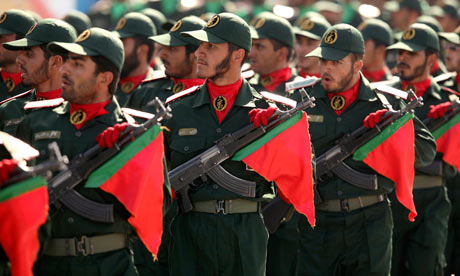 HAARETZ
The Turkish newspaper Zaman reported Tuesday that Turkish intelligence has warned that Iran's Revolutionary Guard is planning attacks on the American embassy and American consulates throughout the country.
According to the report, Turkey's security forces have warned police in all 81 districts throughout the country, telling them to remain alert and vigilant.
In this Sept. 22, 2011 photo, members of Iran's Revolutionary Guard march just outside Tehran, Iran.




Photo by: AP
The report states that according to Turkish intelligence, it is likely that a cell of the Quds Unit of Iran's Revolutionary Guard is planning to break into the U.S. Embassy or one of its consulates. The intelligence further stated that the cell is planning on staying at a five-star hotel in the city in which the attack is being planned, cautioning forces to focus on foreigners residing in those hotels.
Moreover, the report states that Hezbollah may take part in such attacks against Americans.
According to Turkish intelligence, Iran is attempting to support the operations of small, illegal Turkish organizations in the wake of Turkey's decision to establish a NATO radar within its territory, and due to Ankara's condemnation of the Assad regime in Syria.