Obama's Growing Jewish Problem January 21, 2012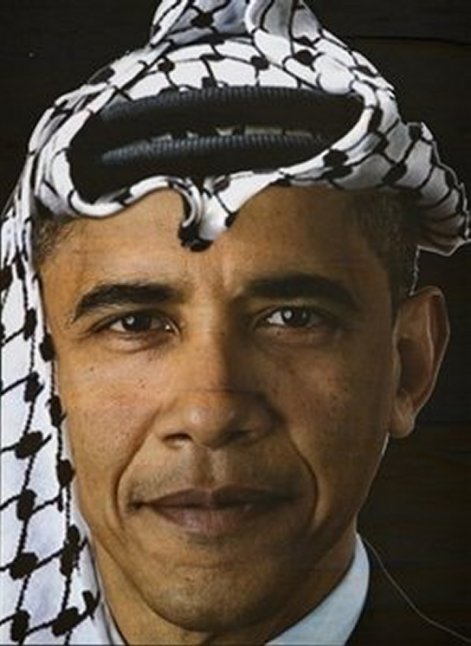 Maggie's Notebook
Jews across the world are praying for a miracle. As things go Iran should acquire a nuclear weapon sometime by January 2013 (If not sooner). And it appears that

President

Sheik Barack Hussein Obama is not only allowing this, but doing it with a sense of glee.

Why not? The way the Main Lame Stream Media act, he has already been re-elected to a 2nd term. He doesn't need the Jewish vote, Jewish money, and can ignore the Jews.
Atlanta Jewish Times owner Andrew Adler has come up with a novel idea to prevent Iran from getting a nuclear weapon. He suggests that the Mossad assassinate Obama.
WASHINGTON - The owner of the Atlanta Jewish Times weekly caused an uproar when he suggested that Israel consider "a hit" on US President Barack Obama "in order to preserve Israel's existence" in case Iran obtains nuclear capabilities.
In his column, published last week, Andrew Adler laid out what he said were three options available to Prime Minister Benjamin Netanyahu in countering the threat posed by Iran's nuclear program. One of the options was to "give the go-ahead for US-based Mossad agents to take out a president deemed unfriendly to Israel in order for the current vice-president to take his place, and forcefully dictate that the United States' policy includes its helping the Jewish state obliterate its enemies."
The other two options, according to Adler, are to attack Hezbollah and Hamas or defy the US – which he said is willing to let Israel "take a lethal bullet."
According to Adler, who later apologized for his column, Obama has an "Alice in Wonderland" belief in diplomacy over force.
"Yes, you read '(option) three' correctly. Order a hit on a president in order to preserve Israel's existence. Think about it. If I have thought of this Tom Clancy-type scenario, don't you think that this almost unfathomable idea has been discussed in Israel's most inner circles?" He wrote.
Adler went on to ask: "How far would you go to save a nation comprised of 7 million lives – Jews, Christians and Arabs alike? You have got to believe, like I do, that all options are on the table."
The publisher's comments were harshly condemned by Jewish columnists and organizations.
The president and CEO of the National Jewish Democratic Council, David Harris, called the column "the height of irresponsibility," "despicable" and "beyond the pale."
"This episode demonstrates just how low our political discourse has sunk," said Harris.
Dov Wilker, director of AJC Atlanta, said Adler's proposals are "shocking beyond belief."
"While we acknowledge Mr. Adler's apology, we are flabbergasted that he could ever say such a thing in the first place. How could he even conceive of such a twisted idea?" said Wilker. "Mr. Adler surely owes immediate apologies to President Obama, as well as to the State of Israel and his readership, the Atlanta Jewish community."
Opher Aviran, Israel's consul general to the southeastern United States, said he was "shocked" by Adler's "insane" and "immoral" statement.
On Friday Adler told the Jewish Telegraphic Agency "I very much regret it, I wish I hadn't made reference to it at all."
He said he would publish an apology in his next edition, and that reaction from readers had been overwhelmingly negative.
Source
Andrew Adler assumes that Joe (Foot-In-Mouth) Biden would be any better. He wouldn't. Both are cut from the same cloth and both are waiting for the day that their Muslim friends kill another 7 million Jews.
Obama and the Democrats have forgotten the NY 9
th
and the defeat the Democrats received. While rich liberal Jews are donating to Obama, the average Jewish person is turning from him. Let us just pray that the GOP doesn't shoot itself in the foot and nominate Ron Paul.